Trikdis FLEXi SP3 WiFi + 2G smart control panel KIT K01
Brand: Trikdis
Product Code: SP3-WiFi-2G-KIT
Availability: In Stock
99,501Ft

88,440Ft

Ex Tax: 73,700Ft
The video below shows you how to install and configure FLEXi SP3 and how to set up a Protegus connection
TRIKDIS FLEXi SP3 WiFi + 2G KIT is a flexible, versatile smart alarm system control panel with integrated WiFi and 2G mobile network communicator, remote access and free user app pre-installed in a metal box. The FLEXi SP3 gives also complete freedom in the choice to be set up as wired, hybrid or wireless alarm system.
Trikdis is at the forefront of the development of modern, mobile network and Internet-based, smartphone-accessible devices.
It combines the most modern techniques in its products with the standard functions from wired alarm systems. The wide range of applications allows you to use this control panel for both intrusion alarm and automation installations.
It was one of the first to integrate communicators into its alarm system control panels, of which the FLEXi SP3 is already the 3rd generation.

Thanks to the integrated Wifi + Ethernet or 2G or 4G communicator and smart device features, it provides full remote control of the alarm system and equipment around the house, such as garage door, garden gate, heating, cooling, irrigation system, lighting, ventilation, etc.
The alarm system communicators works parallel with the monitoring station via IP or SMS and the system owner via the free Protegus Mobile and Web app , available on Android and IOS devices or on any browser.
The FLEXi SP3 is available in 5 modem combinations
WiFi and Ethernet provide lightning-fast access to your smartphone alarm system without the cost of a data connection
When the wired internet goes offline or there is a power outage and the router turns off, the device automatically switches to mobile network
You keep safe as the dual-path redundant connection provides the highest level, state of the art protection available.

Fast WiFi, Ethernet and 4G LTE networks are convenient for remote programming or firmware upgrades
Main features
10 contacts, which can be zone or PGM output
ATZ results 20 zones on the center
max. 8 partitions
max. 32 zone inputs (64 wired zone with special fw.)
max. 16 PGM outputs
integrated modem on the control panel

optional wired, hybrid or wireless operation
If the Internet connection is lost, automatic switch to the mobile network data channel

4 type of system state: Armed, Stay, Night, Disarmed
40 keypad codes, including 8 master codes
Old system takeover

The value of the resistance used by the system can be changed (also for Paradox, DSC, CROW - including ATZ)
Can be used with Paradox, Crow and TRIKDIS keypads

Trikdis PROTEGUS SK232LED, FLEXI LCD*, FLEXI LED
Paradox*K32LCD+, K32+, K32LED, K32+ LED, K35, K10H, K10V, K636 , TM50**, TM70**
Crow CR16, CR-LCD
The keypads are able to display the status of the first 2 partitions and let's you manage up to 8 partitions
* this keypad can display the status of all 8 partitions and let's you manage all partitions
** these keypads can display the status of the first 2 partitions and let's you manage only the first 2 partitions

Can be used with the Paradox RTX3 expansion module and Paradox wireless sensors
Can be used with Crow wireless sensors with the TRIKDIS RF-SH radio receiver expansion module
Smart functions
Low consumption, modern, remotely controlled alarm center and smart home control device
User is notified by PUSH messages in the free Protegus 2 Mobile and Web app (SMS or phone call are also an option)

Due to the server of the Protegus cloud service, neither Fixed IP nor Dynamic DNS is required
Unlimited number of users in the application

Rights can be set per user (partitions, starting PGM output, viewing events, editing users)
Revocation of rights / deletion of a user from the system (e.g. guest house, paid services)<

Wide range of PGM output and control automation options

IP camera access with one click
Function button on the camera image, e.g. gate opening
One wire sensor contact for up to 8 temperature sensors, 1 temperature and humidity sensor or other sensors

Up to 4 separate thermostats, with their own rules

Quick Install
KIT versions prepared for fresh installation, pre-fixed in a metal box with power supply and other accessories
One programming software and cable for all Trikdis devices
Quick and easy setup via USB (miniUSB)
Remote programming option: TrikdisConfig programming software or Protegus 2
Remote monitoring
Thanks to its high - GRADE 3 - security rating, it is recommended for homes, apartments, offices, shops, ATMs or even bank branches
Wired internet, mobil data and SMS event transmission options

In case of loss of internet connection, automatic switch to mobil data

2 main channels, with its own backup channel (a total of 4 separate monitoring receivers can be specified)
Supported transmission protocols: SIA DC-09_2012, SIA DC-09_2007, SIA DC-09_IPcom, TRK (Trikdis) With TL150 (SUR-GUARD)
How can you use a wireless devicesensor with FLEXi SP3 smart alarm control panel?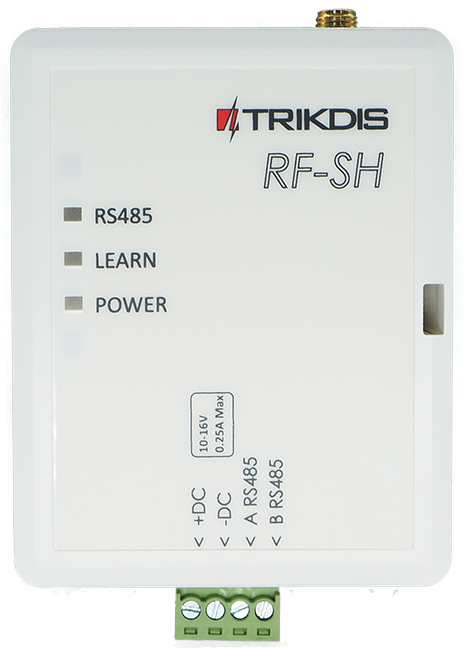 By connecting a TRIKDIS RF-SH or a Paradox RTX3 wireless expander interface you can use the "classic" wired alarm system as a hybrid or wireless. Comes handy when you have no option to lay wires and need wireless sensors or other equipment.
You can use CROW for the Trikdis extender and Paradox wireless devices for the Paradox.

What's inside the box
FLEXi SP3 KIT
The SP3 kits have been put together for faster and easier installation. In addition to the standard accessories of the control panel, the set includes a metal box with tamper protection, in which the alarm control panel is already pre-fixed with four fleas.The power supply is provided by the MEANWELL APV-35-24 switching power supply, for which a 230V mains connection point and a 3.15A fuse are available. All of the devices listed are pre-wired and locked in the box to save you time. All KITs are pre-wired and assembled to save you time.
FLEXi SP3 KITs are available in 2 box sizes
K01 metal box (285 x 280 x 80 mm)
K02 metal box (200 x 210 x 80 mm)
(The Ethernet + 4G control panel does not fit in this box.)

To change the language, enter the Menu with the MENU button, select the service menu by pressing 5, then press 1 (language) for language selection.
After you have selected the required language, do not forget to save the setting with the OK button.
Communication
Transmission Channel
WiFi
Wifi + Ethernet RJ45
Wifi + 2G
Wifi + 4G
Ethernet + 4G

WiFi Frequency, Protocol, Encryption
2.4 GHz, 802.11 b / g / n, WPA, WPA2, WPA mixed
Network configuration
DHCP or Manual
2G / GPRS Modem Frequencies
850 / 900 / 1800 / 1900MHz
4G Modem Frequencies
B1 / B3 / B7 / B8 / B20 / B28
Event reporting transmission channels
To main and backup receivers of up to 2 different security companies
To Protegus cloud, to iOS/Android Protegus mobile apps
To 8 mobile phones via SMS messages
Calls 8 mobile phones. If a user answers the call, announces what happened using voice.
Report transmission directions
2G (GPRS) or 4G
WiFi, LAN (with optional E485 module)
SMS or voice call
VHF / UHF radio signaling (with optional T16 communicator)
Transmission to remote monitoring
TCP / IP, UDP / IP, SMS
Transmission Protocol, Encryption
TRK AES 128, SIA IP AES 128
Event Transmission
Contact ID code
Event log / number of stored events
Yes, 1000 events
Send periodic test reports
Yes
Compatible devices
Supported Modules
iO-8 Expansion Module - 8 terminal I / O
RF-LORA Transciver module
iO8-LORA Expansion Module (via RF-LORA)
iO-LORA Expansion Module (via RF-LORA)
RF-SH radio receiver - for CROW wireless devices
RF-HW radio receiver - for HoneyWell wireless devices (does not work in Europe)
PARADOX RTX3 radio receiver - for PARADOX wireless devices
E485 Ethernet module
TM17 iButton key reader
CZ-Dallas iButton key reader
T16 VHF or UHF Radio Transmitter
Wiegand RFID reader / keypad
Wiegand Fingerprint reader
Max. number of RS485 modules
max. 8
RS485 data bus length
up to 100m
1 Wire data bus
Yes, max 30m wire length
Supported Temperature Sensors
max. 8 x (Dallas DS18S20, DS18B20 ) sensor or 1 x AM2301
Supported Electric Key (iButton) Readers
Maxim® / Dallas® DS1990A
Number of supported keys
40
Supported Keypads
Trikdis PROTEGUS SK232LED, FLEXI LCD*, FLEXI LED
Paradox*K32LCD+, K32+, K32LED, K32+ LED, K35, K10H, K10V, K636 , TM50**, TM70**
Crow CR16, CR-LCD
The keypads are able to display the status of the first 2 partitions and let's you manage up to 8 partitions
* this keypad can display the status of all 8 partitions and let's you manage all partitions
** these keypads can display the status of the first 2 partitions and let's you manage only the first 2 partitions
Max. number of connected keypads
max. 8
Inputs
Dual Function Contacts (Output or Input)
10
Inputs
10 (20 if ATZ is used)
Input types
NC, NO, EOL, EOL_T, 3EOL, ATZ, ATZ_T
Loop resistance
default 2.2kΩ
additional options (ATZ):
2.2kΩ + 2.2kΩ + 4.7kΩ
1kΩ + 1kΩ + 2.2kΩ
5.6kΩ + 5.6kΩ + 3.3kΩ
5.6kΩ + 3.3kΩ + 5.6kΩ
3.3kΩ + 6.8kΩ + 3.3kΩ
2.2kΩ + 4.7kΩ + 8.2kΩ
Maximum Number of Zones using Expansion Modules
32
64 (needs special firmware)
Outputs
Dual Function Contacts (Output or Input)
10
Maximum output number using expanders
16
Control
Mobile app, browser, SMS, phone call
Programming
Programming modes
USB, IP, SMS
Programming Software
Yes, windows
Users
Number of dedicated users
1 Master, 39 Normal
Mobile Application
Yes, Android or IOS
Web Application
Yes, any browser
Technical data
Operating environment
-10°C - +50°C, relative humidity up to 80% + 20°C
Power supply
16 V DC or 16-24 V, 2.5 A AC
Current consumption (nominal)
50mA
Current consumption (max)
200 mA
Detachable terminal blocks
Yes
Battery type
12V, 4Ah / 7Ah
Battery Charge Current [BAT]
max 500mA
Power voltage and current for external devices [AUX]
12V DC, up to 1A
Related Products
Related Articles
Tags: