New to Trikdis? Quick introduction of the company and products
Trikdis has
25

years of experience in security systems. The products are made entirely in the European Union, in Lithuania and are offered by more than 1,000 distribution partners worldwide.

There are a vast of alarm communicators out in the market, but we do not know of any other product that connects to the control panel directly on the data bus or serial port like Trikdis communicators can, instead of using the telephone line communicator (TIP RING). All major manufacturers are supported and this technology allows more functions and faster communication. Installation is easier and faster (you may not have to program the control panel at all). It is not a surprise that many installers prefer the Trikdis E16 (Ethernet) and G16 (Celllular) communicators to the similar DSC and Paradox products.
Data Bus or serial port connectable and Direct Controllable Security Control panels
Direct controllable models are
marked red

.
Spectra
SP4000, SP5500, SP5500+*, SP6000, SP6000+*, SP7000, SP7000+*, SP65
, 1727, 1728, 1738
Magellan
MG5000, MG5050,
MG5050E, MG5075,
MG5050+*,
DIGIPLEX
EVO48, NE96, EVO96, EVO192*, EVOHD*
(*Fw. 7.50 or higher)
ESPRIT E55, 728ULT, 738ULT
* the serial port of the marked NEW control panels has been locked by the factory. The serial port must be unlocked before it can communicate with any external device.
How to unlock Serial Port
PC585, PC1565, PC1616, PC1832, PC1864
, PC1404, PC5015, PC5020
NetworX (Caddx)
NX-4v2, NX-6v2, NX-8v2, NX-8e

Premier
24, 48, 88, 168,
412, 816, 832, 832+
Premier Elite
12, 24, 48, 64, 88, 168
Inception, Integriti

Ademco Vista-15, Ademco Vista-20, Ademco Vista-48

Runner 4/8, 8/16
You don't see your model listed above?
For not supported and other manufacturers control panels, use the E16T communicator with telephone line (TIP RING) connection.
Trikdis smart communicators offer wide compatibility and more functions, but Trikdis control panels and gate automation products offer even more features.
FLEXi SP3 - versatile, modern, flexible smart alarm control panel with integrated WiFi + Ethernet / 2G / 4G GSM / IP communicator
The FLEXi SP3 was designed to combine the best features of Trikdis communicators, modules and alarm systems, resulting in a flexible, versatile control panel.
The wide range of applications allows you to use this control panel for both intrusion alarm and automation. Thanks to the integrated Wifi + Ethernet or 2G or 4G communicator and a smart phone app, it provides full remote control of the alarm system and connected equipment around inside or outside the building, such as garage door, garden gate, heating, cooling, irrigation system, lighting, ventilation, etc.
How can you use a wireless devicesensor with FLEXi SP3 smart alarm control panel?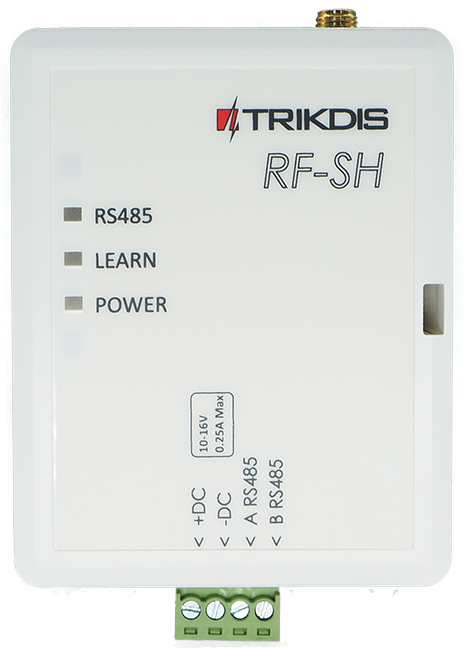 By connecting a TRIKDIS RF-SH or a Paradox RTX3 wireless expander interface you can use the "classic" wired alarm system as a hybrid or wireless. Comes handy when you have no option to lay wires and need wireless sensors or other equipment.
You can use CROW for the Trikdis extender and Paradox wireless devices for the Paradox.

This module can be used the regular way with phone call smartphone app and browser.
A stand-alone device with low consumption and size. It also has a SIM card slot so it can be used as

as a compact alarm control panel with integrated communicator,

for fleet tracking (with GPS module),
in small devices like vending machines, ATMs or properties, such as weekend houses, offices, flats with backup power supply
or as a control device, as several contacts can be used both as inputs and outputs and can be further expanded with the IO8 input output module .
Free application

IP-based Trikdis products can be used with the free Protegus service.

The Protegus web and mobile app is available for free on all platforms:
as a web application (with an internet connection from any browser)
Protegus has a great marketing tool for installer companies. By adding your company logo or contact info as an installer account, your customers will see it every times they use the app.

Tags:
---
Related Articles
Related Products